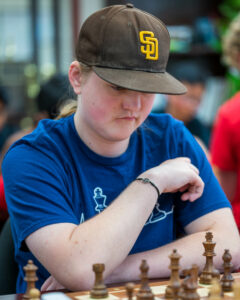 For TCC's team match vs the SDCC, TCC would like to officially award Beau Ritter its MVP award. TCC will be making a trophy for Beau to commemorate this. Beau was TCC's bright spot on board 1 of the B-Squad, collecting a score of 3-1 against the very formidable San Diegans. Beau was TCC's only player to have a winning record and TCC salutes him for his courage, skill and leadership. Avery Beck and Carrey Liu held their own with scores of 2-2. Everyone else went either 1-3 or 0-4. It was a rough day, but TCC found out more about who we are as a team, how we stack up to other teams in SoCal, and what we need to work on.
Complete standings here.
"A" squad games can be viewed here.
Pictures here.